Overview of Ratiborus KMS Tools Portable
KMS Tools Portable launched by Ratiborus in 2019 includes all the well-known service programs. Using the program pack is very convenient, since it combines all the essential tools from one major software developer. KMS Tools Portable allows you to activate and reactivate various Windows and Microsoft Office versions. The software is free of charge, supports multiple languages, and can be launched from a USB drive.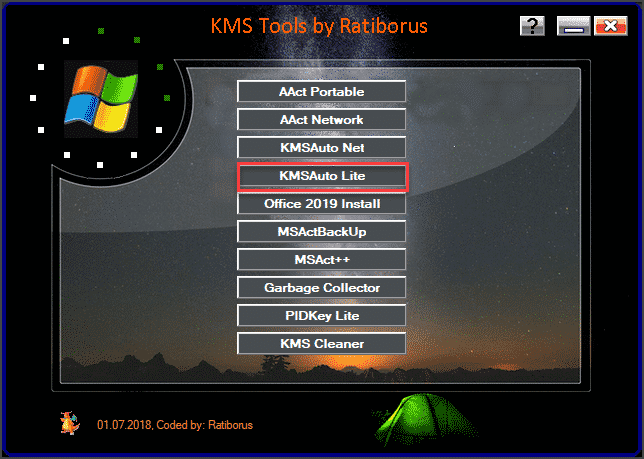 Features of KMS Tools Portable 2020-2021
KMS Tools Portable contains the following functions:
Aact Portable;
Aact Network;
ConsoleAct;
Defender Tools;
KMSAuto Lite;
KMSoffline;
W10 Digital Activation;
Office 2019 install;
MSact++;
MSactBackUp;
PIDKey Lite.
This set of tools helps activate and reactivate Windows Vista, XP, 7, 8, 8.1, 10, Microsoft Office 2010, 2013, 2016 and 2019. It also allows users to create backups and remove traces of activation from the system.
The latest versions of programs added in 2020 include:
Aact Network v1.1.9 Portable. It activates Windows Vista-10, professional and VL versions, Office 2010-2016 and installs servers 2008-2016. It operates without the NET Framework.
Aact v4.2 Portable. It helps activate Windows Vista-10, Office 2010-2019 and servers 2008-2016. The utility is suitable for Office 2010 VL activation on XP.
Defender Tools v1.0.7. The tool allows users to set up exceptions for files and folders in the Defender operating system.
KMSoffline v2.1.8 ru en. This program creates an emulator of an activation server inside the operating system, which helps activate commonly utilized Windows and Office versions. Framework 4.5 should be installed on your device for this tool to operate.
Office 2013-2019 C2R v7.08 activates Office 2013-2019 C2R online. It is possible to create a distributive for further offline installation.
PIDKey Lite v1.64.4 b8 ru en. The program designed to store, review and update information about Microsoft product keys in log files has several built-in configurations. It has an option that allows you to set up your custom configuration, which is saved in a relevant path.
Installation guide
The software is portable, so there is no need to install it on your computer. After downloading the activator, click on the button «Run as user» and confirm it. The navigation is quite easy, and any inexperienced user can get a handle on it.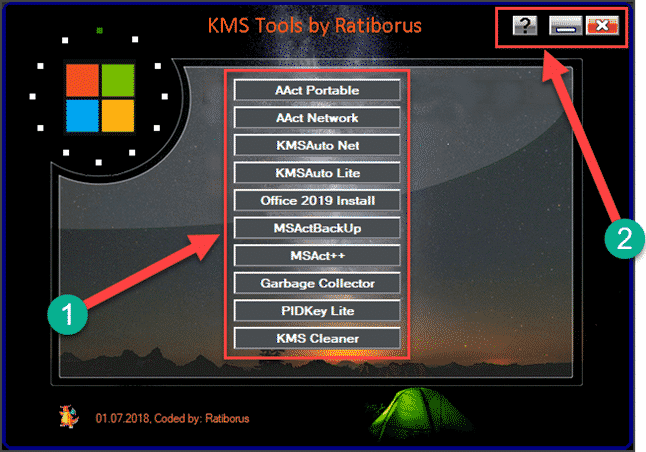 To choose a particular tool, you will have to click on its title on the main screen. Each tool has a detailed description. Click on the question mark near the title to read the description.
How to use KMS Tools Portable
There are automatic and manual modes in the activator. If the software fails to activate the products automatically, you will need to set it up manually by installing the GLVK key. To do that, choose «Professional mode», «Utilities», and set up the key.
If your antivirus software identifies the program as malware, temporarily switch off your antivirus protection.
Password: kms-auto.site
KMS Tools Portable by Ratiborus 01.11.2020